NEW ALBUM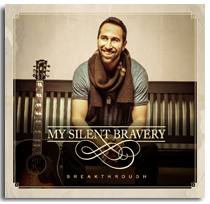 SOUNDS LIKE
My Silent Bravery has drawn comparisons to Maroon 5, Daughtry, One Republic, Jason Mraz, and John Mayer. MSB's remixes have drawn comparisons to The Weekend. Instrumentals available for all songs and acoustic versions available for many.
MUSIC
HIGHLIGHTS
Diamond from Coal (2014), the fourth LP from MSB debuted in the Top 40 of the iTunes Singer/Songwriter Best-Sellers chart and in the top 20 on Amazon's Hot New Releases.

Following the success of Diamond from Coal, MSB released Diamond from Coal the Remixes which takes the singer-songwriter songs and adds electronic ethos The lead single and video, P.O.V. (feat. Shea Rose, premiered on Vevo and was also added to rotation by MTV & VH1.

MSB on tour this fall with Emerson Hart & Meiko. MSB has shared the stage with Daughtry, Delta Rae, Howie Day, Tyler Ward, John Waite, The Wailers, Candlebox, Ryan Cabrera, O Town, Teddy Geiger, Tyler Hilton, Ed Kowalczyk, Rusted Root, and many others.

My Silent Bravery is now playing on American Airlines inflight music channel Live On American.

PRESS
"My Silent Bravery plays like a major label signing, from its production savvy, eloquent lyrics, authoritative imaging, polished web site, a dedicated Northeast U.S. fan following (200 shows in two years), merchandising — and most important, a chockablock collection of winning songs on debut album ARE YOU PREPARED?. My Silent Bravery is destined to make major noise."
— Billboard Magazine
"While he's drawn comparisons to John Mayer and Gavin DeGraw, A-Sides thinks he can stand on his own sans any labels or similar-sounding artist references. In other words, his music, like his name, is unique and stands on its own in a bold way"
— The Huffington Post (Jon Chatman)